E Series Horizontal 5 Pin Chassis Connector
Part Number: IO-XLR5-X-EH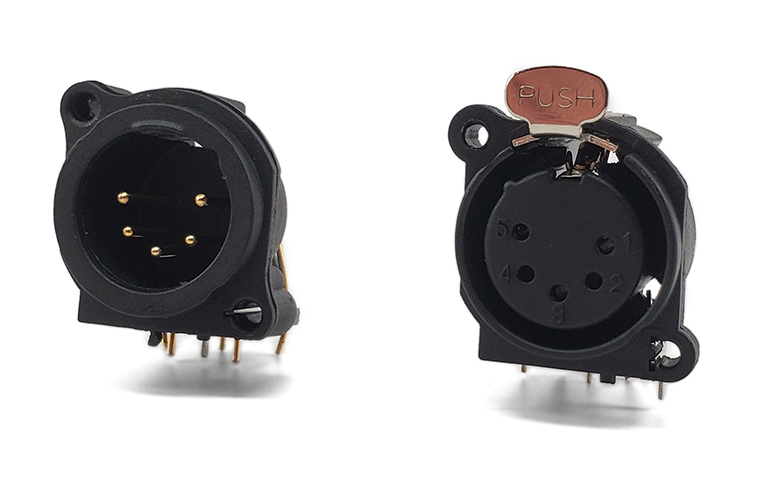 Locking horizontal PCB Mount 5 pin chassis connector with plastic body for audio and lighting control.​
Other Available Mounting Option: Vertical PCB Mount
Gold Plated Contacts
Durable Connectors in a Small Footprint
Highest Packing Density Connector
Separate Ground Pin
Horizontal PCB Mount
Rugged Plastic Body
E Series XLR chassis connectors offer the most cost-effective solution for design-in applications where the termination method is to a printed circuit board. The small footprint makes this our XLR receptacle with the highest packing density available.​

These connectors feature a compact all plastic housing with precision machined, one piece, gold plated contacts to help prolong the useful life of the connectors. They also come with a separate nickel plated ground pin that grounds the connector to the panel. The compact form factor of the these connectors makes them perfect for situations where space saving is a priority or space for a connector is limited.

Available in 3, 4, or 5 pin, Male or Female variations with options for vertical or horizontal PCB mounting.
Male (IO-XLR5-M-EH),
Female (IO-XLR5-F-EH)
separate ground contact to shell of mating connector and panel
Capacitance Between Contacts
Capacitance Between Contact and Ground
Complies with
IEC 60068-2-20
-40°C ~ +70° C
(-40°F ~ +158°F)