5 Pin XLR Connector (Gold)
Part Number: IO-XLR5-X-BKAU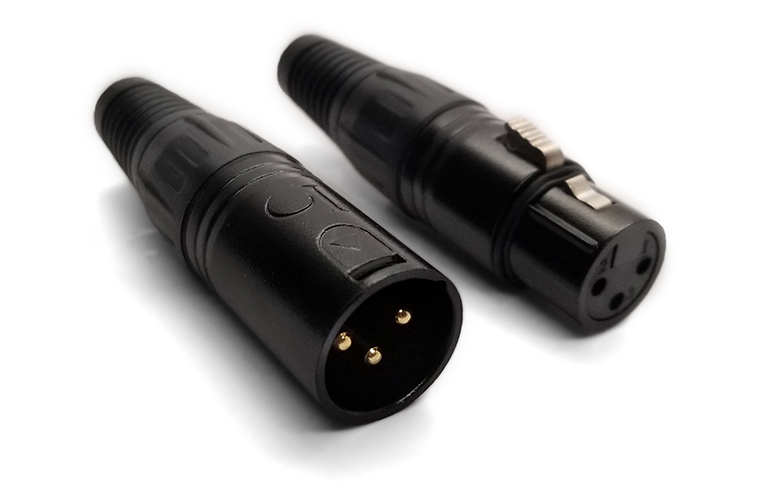 5 pin, gold plated XLR style connectors perfect for use in audio cables and also in DMX cables.
Durable Metal Shell
Strain Relief
Gold Plated Contacts
Threaded Housing Assembly
Latch Lock
Solder Termination
The IO-XLR5-M-BKAU and IO-XLR5-F-BKAU connectors feature durable die cast zinc shells with built in latch locks which provide a reliable connection when mated with the opposite gender. They also feature a sturdy plastic insert that tightens onto the cable to provide strain relief while an additional rubber boot delivers extended support from excessive bending. The gold plated contacts increase the useful life of the cable.
5 pin XLR connectors are a perfect solution for applications requiring a rugged and dependable locking connection. Because the housing construction is threaded, the connectors require no tools for assembly, making them ideal for onsite termination and allow the user to be able to troubleshoot connection issues quickly. This connector is perfect for use in balanced audio, DMX, low voltage power, and control applications where the termination method is solder cups.
Male (IO-XLR5-M-BKAU),
Female (IO-XLR5-F-BKAU)
Capacitance Between Contacts
Capacitance Between Contact and Ground
Complies with IEC 60068-2-20
IEC 60603-11 / EIA RS-453
-40°C ~ +70° C
(-40°F ~ +158°F)