TCH Series
Balanced Patch Cable
Part Number: IO-BP176XXX-T3MCH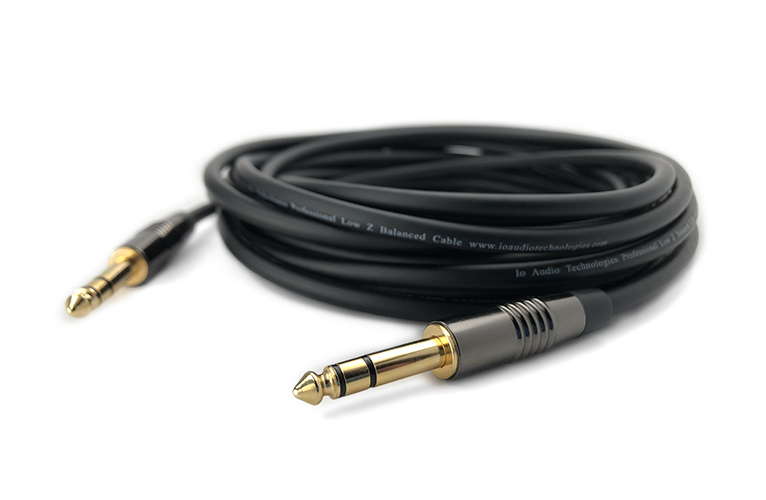 The TCH Series Balanced Patch Cable is made to provide a great sounding balanced connection in professional sound systems using ¼" TRS connectors.
OTHER CONNECTOR CONFIGURATIONS AVAILABLE: RIGHT ANGLE TO STRAIGHT AND RIGHT ANGLE TO RIGHT ANGLE
Aluminum Foil and Tinned Copper Braided Shields
Gold Plated Plugs
Tight Pitch Twisted Pair
XLPE Insulation
Low Noise Floor
Very Flexible Design
Designed to be a flexible, yet rugged component of professional live sound and studio systems, the TCH Series Balanced Patch Cable can handle the rigors of any audio environment.

The IO-T3MCH connectors feature an extremely durable nickel tin plated brass shell and includes a clamp that tightens onto the cable to provide strain relief while an additional rubber boot delivers extended support. The gold plated plug contacts, silver plated wire terminals, and XLPE insulation all ensure the best possible signal flow and extend the useful life of the cable.

It's durable and flexible PVC jacket protects the OFC conductors from whatever life throws at it. Add to the equation two shields, aluminum foil and braided tinned copper, and the conductors have double the protection from EMI resulting in a dependable addition to any professional audio engineer's toolbox.
Braided TC & Aluminum Foil
ELECTRICAL & MECHANICAL
CHARACTERISTICS
CAPACITANCE BETWEEN CONDUCTORS
CAPACITANCE BETWEEN CONDUCTORS AND SHIELD