Stranded Cat 5e F/UTP CMR Cable
Part Number: IO-E4242S-5ECMR-1000B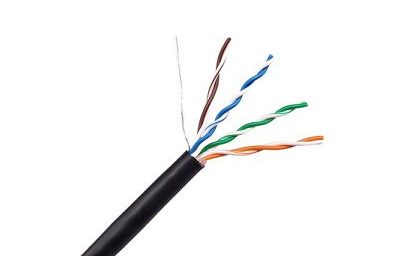 Bulk Stranded Cat 5e cable for commercial, residential, broadcast, and stage applications.
High Quality Twisted Pairs
UL 1666 CMR Rated
24 AWG, Stranded Conductors
Heavy Duty Foil Shield
2 FT Distance Markers on Jacket
This twisted pair data cable with 4 pairs of stranded 24 AWG conductors offers increased flexibility for years of continuous bending and use in live performance. The twisted pairs are separated by a 4-way separator to maintain proper spacing and reduce crosstalk between the twisted pairs. This cable also features a heavy duty aluminum foil shield which protects against interference and crosstalk between cables as well as a dedicated tinned copper drain wire for proper shielded termination.

The Cat 5e wire comes complete with a matte black, flame retardant PVC jacket that protects the interior workings of the cable from the harsh environment and installation stress. Distance markers are printed on the jacket every 2 ft so you never lose sight of how much wire you've installed.

This stranded Cat 5e wire provides a solid foundation for any commercial or home network. It is perfect for structured cabling, patch cables, transmission of digital and analog signal for data, video, and audio applications. It meets IEEE 802.3u for 100Base-T and also meets both IEEE 802.3af and IEEE 802.3at for PoE and PoE+ applications. It is also suitable for HDBaseT, AES 50, AES 67, AES/EBU, Digital Video, RS-422, and tested up to 350 MHz.
8 (4 Twisted Pairs) Plus Drain Wire
White/Orange, Orange, White/Green, Blue, White/Blue, Green, White/Brown, Brown
AC LEAKAGE CURRENT THRU OVERALL JACKET
ELECTRICAL & MECHANICAL CHARACTERISTICS
INPUT IMPEDANCE (MAX / MIN)
CAPACITANCE UNBALANCE PAIR-TO-GROUND
-20°C ~ +60°C (-4°F ~ +140°F)