Part Number: IO-XLR3-XX-P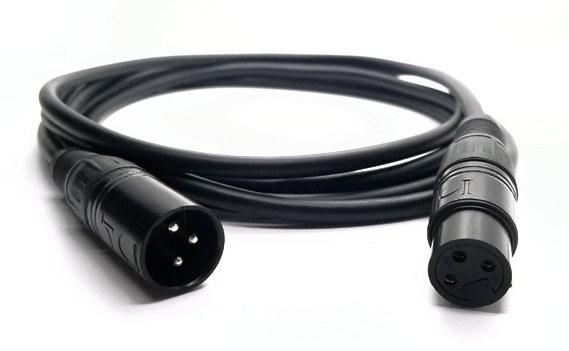 This cable is an excellent choice for production companies working in environments where a more robust shielding option is needed.
Tight Pitch Twisted Pair
Durable, Locking Connectors
XLPE Insulation
Braided Tinned Copper Shield
Low Noise Floor
The Professional Series XLR cable is made using two stranded, 23 AWG, OFC conductors in a tight-pitch twisted pair configuration. The use of XLPE insulation helps reduce the capacitance while the braided tinned copper shield provides excellent EMI and noise rejection. Between the conductors and shield is a conductive yarn designed to increase the flexibility of the cable. To top it all off, the sturdy PVC jacket is there to take the abuse of any environment.

The IO-XLR3-M-BK and IO-XLR3-F-BK connectors feature durable die cast zinc shells with built in latch locks which provide a reliable connection when mated with the opposite gender. They also feature a sturdy plastic insert that tightens onto the cable to provide strain relief while an additional rubber boot delivers extended support from excessive bending. The silver plated contacts ensure a great signal every time.
ELECTRICAL & MECHANICAL CHARACTERISTICS
CAPACITANCE BETWEEN CONDUCTORS
CAPACITANCE BETWEEN CONDUCTORS AND SHIELD