JL Series Etherlatch Connector
Part Number: IO-EL8-F-JL-PR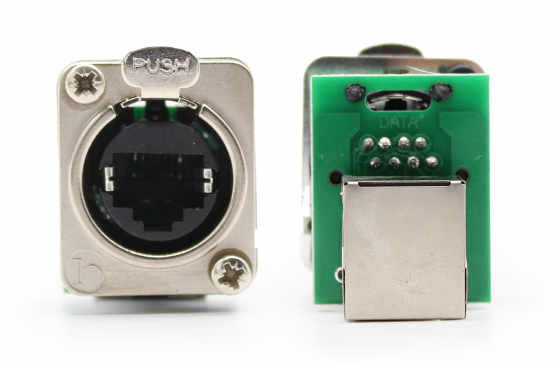 Locking chassis connector for ethernet over twisted pair wiring. Mates with Etherlatch cables and connectors.
Right Angle Pass Through. Also available in straight pass through (IO-EL8-F-JL-P)
Specialized AC power inlet connectors for heavy duty equipment. Used in tandem with IEC C13 cable connectors.
UL Recognized and Approved Components
Right Angle Pass Through
Rated for 1.5A/50V AC
Gold Plated Contacts
Cat 5e Transmission Performance
Select an option to view online pricing and stock
JL Series Etherlatch chassis connectors offer a sleek and robust connection in a standard "J" Size shell. This series is perfect for high-noise environments like permanent installations or design-in applications where a pass through design is preferred. The connectors have nickel plated die cast zinc housing which allows for great RF protection. They have precision machined, one piece, gold plated contacts and are available in either black or nickel housing. 
The JL Series Etherlatch chassis connectors help prevent local RF interference from assisted listening, WiFi, and other radio transmitters close to the connectors. When coupled with quality shielded cables, a robust system for preventing the intrusion of unwanted noises is created.
Right angle pass through rj45
-30°C ~ +80° C
(-22°F ~ +176°F)
right angle Pass through rj45
CURRENT RATING PER CONTACT
-30°C ~ +80° C
(-22°F ~ +176°F)