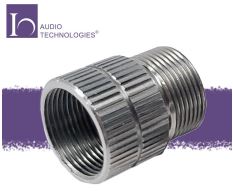 Io Audio Technologies has released the Threadsaver, a new hardware product designed to extend the lifespan of your microphone shock mount.
Microphone shock mounts receive extensive damage due to repetitive installation and removal from mic stands. This abuse significantly strips and wears down the inner threads of the shock mount which can often be irreplaceable or costly to repair. The Threadsaver, by Io Audio Technologies, works as a barrier by taking the repetitive stress instead of your equipment.
"Consider the Threadsaver a sacrificial piece of hardware," says Randy Rivero, Product Manager, "once you've worn the threads off of the Threadsaver, you can remove it and replace it with another piece which saves you the hassle and cost of having to replace your more expensive equipment." 
Consisting of a 5/8″-27 male thread to a 5/8″-27 female thread this product works as an extension of your equipment. Constructed as a solid stainless steel piece, the Threadsaver won't create buzzing or vibration that will enter your shockmount. This hardware piece is not only durable but it will not tarnish or corrode. 
Used by screwing into the base of the shockmount on one end and attaching the mic stand on the other, this product is affordably priced as it is used in a sacrificial role and is simple to install when replacement is needed. This hardware is perfect for recording studios, performance centers, or wherever the removal and attachment of a shock mount on a microphone stand is necessary
For more information about the Threadsaver and to find an authorized distributor, please visit https://www.ioaudiotechnologies.com/products/accessories-threadsaver/IO-TS58 Product video: https://youtu.be/npdTqqZL4CI