E Series Vertical 4 Pin Chassis Connector
Part Number: IO-XLR4-X-EV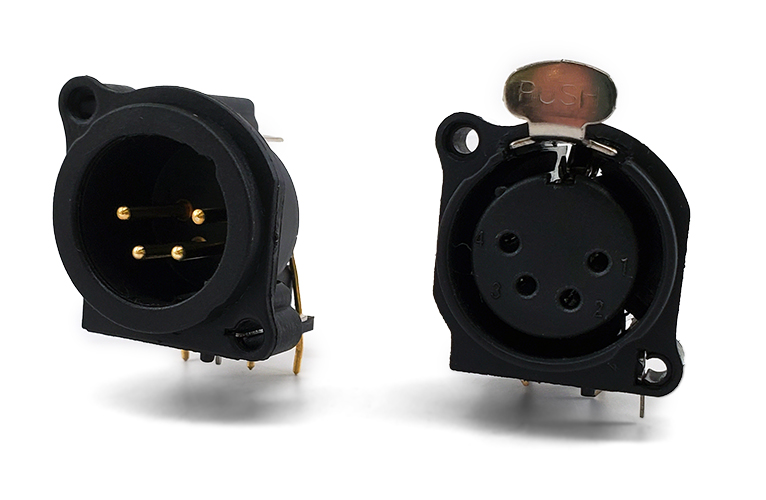 Locking vertical PCB Mount 4 pin chassis connector with plastic body perfect for use in DC power, aviation, communications, and other AV applications.
Other Available Mounting Option: Horizontal PCB Mount
Gold Plated Contacts
Durable Connectors in a Small Footprint
Highest Packing Density Connector
Separate Ground Pin
Vertical PCB Mount
Rugged Plastic Body
E Series XLR chassis connectors offer the most cost-effective solution for design-in applications where the termination method is to a printed circuit board. The small footprint makes this our XLR receptacle with the highest packing density available.​
These connectors feature a compact all plastic housing with precision machined, one piece, gold plated contacts to help prolong the useful life of the connectors. They also come with a separate nickel plated ground pin that grounds the connector to the panel and to the shell of the mating connector. The compact form factor of the these connectors makes them perfect for situations where space saving is a priority or space for a connector is limited.
Available in 3, 4, or 5 pin, Male or Female variations with options for vertical or horizontal PCB mounting.
Male (IO-XLR4-M-EV),
Female (IO-XLR4-F-EV)
Complies with IEC 60068-2-20
Capacitance Between Contacts
Capacitance Between Contact and Ground
Separate Ground Pin. Grounds to Shell of mating connector and panel
-40°C ~ +70° C
(-40°F ~ +158°F)